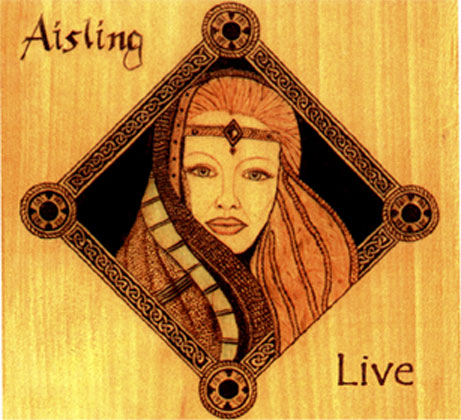 Aisling (Aisling is Gaelic for "dream vision") is a Celtic band playing pan-Celtic music including traditional and contemporary Irish and Scottish music. Aisling is a group of inspired musicians from upstate New York who have been performing Celtic music in the Hudson Valley for the past 10 years. Aisling creates a "dream vision" at every performance! Aisling combines vocals, guitar, Scottish pipes, fiddle, harp, bass and percussion in their music. Aisling takes pan-Celtic music and rhythm to another level.
AISLING
TOSNUIG SE LE BRIONGLOID
"It Begins with a Dream"
Spirited Celtic Music
Celtic music including traditional & contemporary Irish & Scottish music
Upcoming Events:
Saturday April 27th:
MERRY WE MEET AGAIN!
AISLING plays BELTANE FESTIVAL at the STONE MOUNTAIN FARM IN TILLSON, NY
Festival Gates open at 12:00pm. Pageant is at 4:00pm and AISLING will take the stage around 7:00pm before we light the ceremonial Beltane Fire.
Center For Symbolic Studies, Stone Mountain Farm, 475 River Road Extension (at the intersection of Springtown Rd.), New Paltz, NY
"The pageant will enchant you, the music will move you, a magical time is promised to all!"
This is a fun day for adults and children at a beautiful setting in the valley beneath the Shawangunk range. The weather will be sublime so put on your Beltane attire, pack up the faeries and come out to see Aisling!
All the information you need- directions, pre-sale tickets, shuttle and volunteering- can be found here http://symbolicstudies.org/css-festivals/beltane-2013/
We look forward to spending a memorable Beltane 2013 with you friends~
Email us at jfalconess@aol.com for bookings and more information.
Aisling is thrilled with our review for our first Celtic music CD "Aisling Live" (c.2000, Taconic Records) from Rhythm & News magazine February 2001:
"This spirited and thoughtful Hudson Valley interpretation of Celtic mists, myths and legends is a fine addition to your world music library. Recorded live at Mike Stacks in east Durham, NY, Aisling (Gaelic for "dream vision") transports its audience to a Saturday night community meet at the foot of Mount Errigal and lets the Irish out. Weaving vocals, Scottish pipes, bodhran, harp, cello, flutes, percussion, guitars and fiddle, Aisling knits together history with "GABHAIM MOLTA BRIDGHE" (ode to Saint Bridget) the joy in "Morrision jig" and the "Atoll Highlanders" to create a fervent quilt of Celtic lore."
Expanding on their extensive traditional Celtic music repertoire, the band finished their new CD "Hot Summer Night" c.2002. Currently they are indulging the exploration of passionate pan Celtic / Irish and Scottish electric sound. There new CD is scheduled for release in early Summer 2007!!! CD's will be available at all shows.
You can email us at the link below...AISLING IS NOW TAKING BOOKINGS FOR THIS WINTER!!!
jfalconess@aol.com
AISLING CELTIC BAND ASKS YOU TO CHECK BACK AS WE UPDATE OUR SITE REGULARLY